Jordan Charnofsky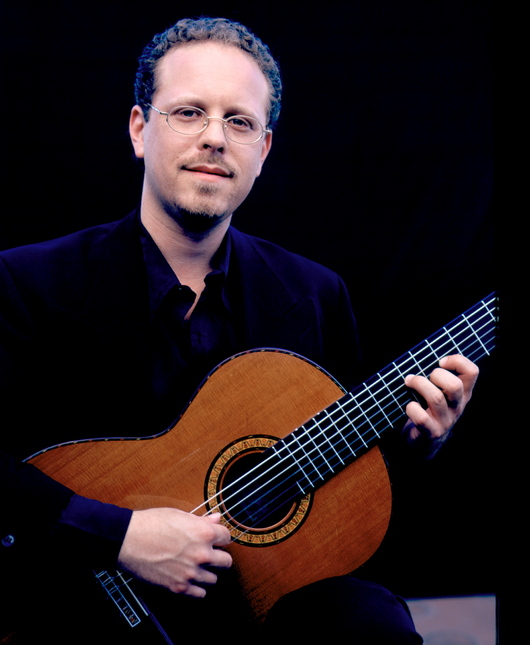 The Los Angeles Times described Jordan Charnofsky as playing the classical guitar with "lucid grace," "a sure hand," "expressive range," and "bravura." Classical Guitar magazine said, "Jordan Charnofsky may well take his place among the California guitar stars...a wonder to see and hear." Guitar Player magazine called him "an amazing classical guitarist and composer."
Los Angeles-based guitarist Jordan Charnofsky leads a very diverse and unique musical performing career. He has served as principal guitar for the L.A. Opera Orchestra, and he accompanied opera superstars Luciano Pavarotti, Juan Diego Flórez, and Bryn Terfel. With ensembles and as soloist, he performed in the World Festival of Sacred Music, the Playboy Jazz Festival, the Hollywood Bowl Children's Concerts, and numerous times at the Academy Awards celebrations.
As a featured soloist with symphony orchestras, to broadcast performances on TV shows, to performances in Japan and Russia and across the USA, Jordan excels as a solo performer and as an ensemble musician. Concerts in major venues include Disney Hall, Staples Center, the Ford Amphitheatre, the Greek Theatre, and the Dorothy Chandler Pavilion. He has been a featured soloist with the L.A. Jewish Symphony, the Topanga Symphony, the Moorpark Symphony, the USC Thornton Symphony, Enlightenment Chamber Players, Mladi Chamber Ensemble, and the Brandeis-Bardin Chamber Ensemble.
Jordan holds the Doctor of Musical Arts and the Master of Music degree in classical guitar performance from the University of Southern California Thornton School of Music. He was honored upon final graduation as that year's Outstanding Doctoral Degree Graduate of the Thornton School. He received the Classical Guitar Departmental Award for both the Doctoral and Master's degrees. He was a first place winner of the USC Guitar Concerto Competition, and he performed in over 30 master classes of the world's top international guitarists.
Jordan served as the Musical Artist-in-Residence at the Brandeis-Bardin Institute for nine years, where he produced and performed in many concerts and recitals. He has taught guitar and music for USC, the L.A. Jewish Symphony, American Jewish University, Kadima Conservatory, Cerritos College, Moorpark College, and L.A. Valley College.
A refined classical crossover artist, Jordan bridges the styles of classical, early music, folk, world music, popular styles, klezmer and Sephardic music. Jordan has absorbed music from many of the world's traditional cultures, with his guitar as the unifying, universal link. From the purity of playing the Renaissance lute and the Baroque guitar live in concert, to recorded productions utilizing software synthesizers and computer audio sampling, Jordan openly embraces music from ancient times into the 21st century.
---
Check availability for Jordan Charnofsky »
---