The Jack Furlong Orchestra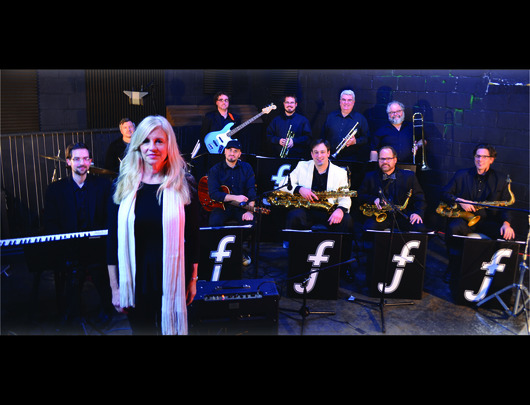 You'll love the diverse selection of music throughout the world of jazz, classic standards, and even a hint of pop played by Jack's 12 piece orchestra! Your guests will be FLOORED not only by our musical talent, but also our professionalism! Call us today to book the BEST group for your special day!

Featuring three saxes, two trumpets, one trombone, guitar, piano, bass, drums, and two vocalists, and led by baritone saxophonist Jack Furlong, the orchestra play jazz standards and arrangements from all over the largest spectrum of jazz, from swing to Latin to ballads to funk and beyond. Their repertoire is always changing, with new material being added constantly, so please don't hesitate to ask if a certain song is not listed in our song list! Featuring GRAMMY nominated saxophonist Tony Gairo, Buddy Rich trumpeter Steve Lombardi, Posi-Tone saxophone recording artist Tom Tallitsch, and "Breaking Bad" (AMC) contributing musician guitarist BD Lenz, you won't find a better group of performers with competitive prices anywhere else!

Here's what others are saying about Jack and the band:

"...Jack Furlong [and his] band have been wonderful supporters of Susan G. Komen for several years. [They] have generously offered their musical talent for our events in addition to donating their music to our fundraising auction. Jack is always professional, prompt, and gracious. His music is beautiful and helps set the tone for the entire evening. Those who bid and win [his band] in the auction have nothing but the highest praise for not only his music, but the level of service provided. Their musical talent as well as their ability to accommodate a variety of venues sets [them] apart from their peers." -Nancy H., Fmr. Executive Director, Central and South Jersey Affiliate, Susan G. Komen For The Cure

"...Jack Furlong...provided the perfect ambiance for the cocktail hour of our wedding reception last summer. The gentlemen were punctual, professional, and a delight to work with. Their musical selection was a joy to listen to and set a light and fun tone for the rest of the evening. Several of our wedding guests approached us throughout the evening just to complement us on choosing such a talented group of musicians. We highly recommend [them] for your wedding or next function!" -Jim and Lauren B., Somerville, MA

"The Jack Furlong Orchestra was the perfect addition to our wedding celebration. Their combination of classic standards and upbeat dance music fluently helped us transition from dinner to dancing. Dancing to Michael Buble's "Everything" was one of the highlights of our night, a moment that we will remember forever. The members of The Jack Furlong Orchestra are truly talented showmen (and women) with a classic sound. We were so pleased with their performance at our reception!" -Chris and Jess E., Hoboken, NJ

An excerpt from Jack's bio:

"...Furlong is known as a performer, composer, arranger, woodwind doubler, and educator. A baritone saxophonist by trade, Jack diversifies his sound to other saxophones and woodwinds to achieve the proper tone color, mood, and musical message he hears and wishes to portray. Jack delights audiences with his wit and mastery at gigs, a talent that exudes from his albums, including the critically acclaimed "And That Happened" as well as his newest release, "Charity," an album where all proceeds are donated to three different charities.

With cool phrasing and a simple, melodic approach, Jack credits his style as heavily influenced from a wide variety of jazz pioneers, citing Gerry Mulligan, Miles Davis, Count Basie, and John Coltrane as the parents of his sound; yet he notes that his technique is personalized for today's jazz scene. Jack has been on stage alongside greats such as Phil Woods, Peter Nero, Jim McNeely and the late Mulgrew Miller...

...The beginning of Furlong's professional career coincided with the beginning of his jazz studies at Lafayette College where he earned his B.A. in Music. Jack performed with the college's Jazz Ensemble, Jazz Combo, Percussion Ensemble, and other various groups while honing his chops and composing for ensembles big and small. It was during this time that Jack began to gravitate toward the programmatic music of film, television, video games, and other media.

Furlong later graduated from William Paterson University with his M.M. in Composing and Arranging, further developing his interest and affinity for programmatic music and strengthening the argument for its inclusion in his vast repertoire. This was evidenced from the title of his Masters Thesis: "Band, Jazz Band: The Relationship Between Jazz and the Music of James Bond." Experts believe this could have been easily predicted, however, based on the fact that Jack submitted a nine piece arrangement of "Super Mario Bros." as part of his graduate school application..."
Group Members
Jack Furlong (Leader, Bari Sax), Tony Gairo (Alto Sax), Tom Tallitsch (Tenor Sax), Steve Lombardi (Trumpet), Ryan Dupuis (Trumpet), Gabe Stephens (Trombone), BD Lenz (Guitar), Sean Gough (Piano), Jon McElroy (Bass), Chuck Cooper (Drums), Kyrus Westcott (Male Vocals), Bernadette Furlong (Female Vocals)
---
Check availability for The Jack Furlong Orchestra »
---