Ruby Dee and the Snakehandlers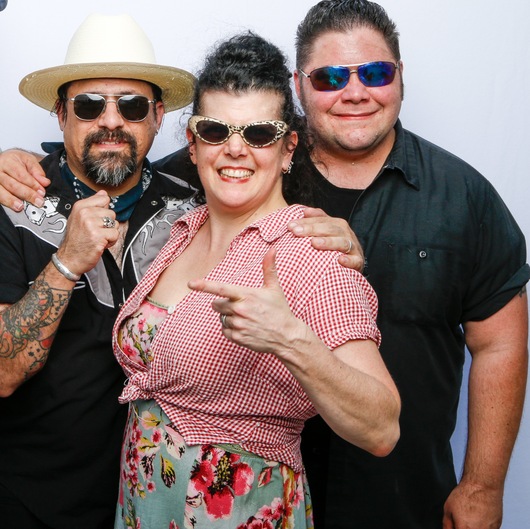 Ruby Dee and the Snakehandlers are a high octane Americana roots and rockabilly four piece combo that plays twang the way it was meant to be heard- with attitude! Their music encompasses Texas honky-tonk, Bakersfield twang, Memphis rockabilly, Western swing and good old-fashioned rock 'n' roll.
After nearly constant touring for the past fourteen years, including thousands of dates across America, Europe, and Australia, songs from the band's fourth album, MILES FROM HOME (Dionysus Records, June 2008; produced by Conrad Uno), are still earning steady airplay, including "Cold Pines and Red Dirt," which earned band front woman- lead vocalist and songwriter Ruby Dee- runner-up honors in Songwriter magazine's 2007 competition. The album charted in at #86 on the AMA Top 100 for more than four weeks and #26 on the Texas Third Coast Music FAR Top 40. The "Round and Round" video, release in May 2009, has earned great acclaim with its cameos of Seattle rockabilly musicians and famous musical neighborhoods.
Currently providing the rock-solid honky-tonk groove backing Ruby Dee and Gretsch-endorsed Jorge Harada are Scott French on cathouse drums and Dylan Cavaliere on doghouse bass.
The band's last release: LIVE FROM AUSTIN TEXAS came out mid May 2011 on both CD and vinyl, showcasing a few new songs and fans old favorites cranked up with that live jumpin' sound for which the Snakehandlers are so well known. Songs from the CD charted for three months on both the AMA and Texas Third Coast Music charts, and the CD earned the band a 54th Grammy consideration for Best Americana Album.
Their latest release: ROCKABILLY PLAYGROUND came out May 2013 on both CD and vinyl, and is a roots and rockabilly album for the whole family. With all mature instrumentation and lyrics for the kids: songs about homework, naptime, why we have to follow all the rules, super best friends, and more. Ruby wrote the record when she saw how many of their fans have children and when they can bring them to shows, how many of those kids LOVE this style of music! Songs from the album charted on both AMA and FAR charts, and earned the band a 56th Grammy consideration for Best Children's Album.
Currently, Waterloo Productions is filming a movie about Ruby Dee and the Snakehandlers, to be showcased at SXSW, Sundance, and other film festivals across the US. And of course, Ruby Dee and the Snakehandlers continue to write more new music, so stay tuned for what's next!
"Risky — and perhaps just a bit risqué — Ruby Dee and The Snakehandlers conjure forth all sorts of visions of another time. Rooted firmly in the classic country and rockabilly tradition, the band is an authentic backdrop for lead singer Ruby Dee's blend of Wanda Jackson sass and Patsy Cline pathos. The band holds it down with the insistence of a chugging train while Dee, a pinup heartbreaker of yesteryear with thoroughly modern attitude, commands the stage." says Metro San Francisco.
---
Check availability for Ruby Dee and the Snakehandlers »
---