DJ Fusion (FuseBox Radio Broadcast)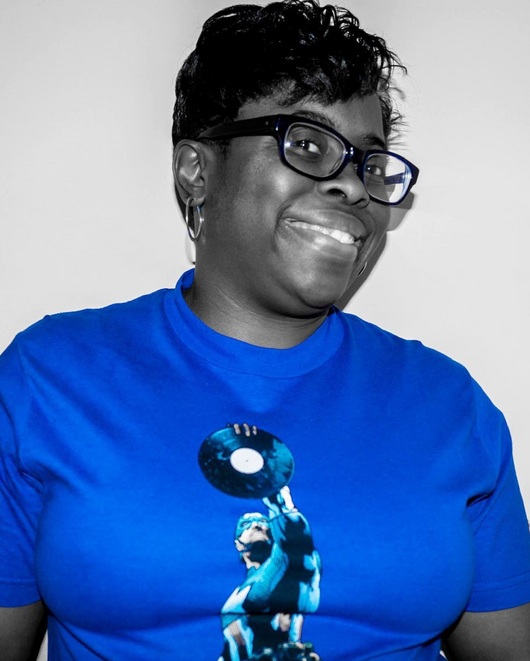 Watch DJ Fusion (FuseBox Radio Broadcast)

DJ Fusion of the FuseBox Radio Broadcast is a U.S. mixshow and events DJ whose main musical focus in the Black Music/Urban Music Genre (Hip-Hop, Reggae, Funk, Jazz, Soul/R&B, House, Disco, EDM, Rock, World Music, etc.) on the independent & mainstream level.
The syndicated FuseBox Radio Broadcast was founded by DJ Fusion while she was an undergraduate student at the Rutgers University - New Brunswick campus in 1998 at Rutgers University Radio.
Along with co-host, fellow mix DJ and business partner Ausar Ra Black Hawk (who came on as a part of the show in 2004), the weekly radio show & podcast exists to bring the Balance Back to Black Radio with having a strong focus on bringing a diverse mix of independent and mainstream Black Music (Hip-Hop, Soul, Jazz, Reggae, Rock, Funk, House & more from all over the world along with relevant commentary, news and guest interviews to the international listening masses.
From its original roots, the FuseBox Radio Broadcast has spread to over 25+ website, FM & internet radio stations and podcast distribution channels (most of which are tracked via RadioWave Monitor, Mediaguide & SoundExchange) as of December 2016 (listed at http://bit.ly/FuseBoxRadioBroadcastAffiliates).
Listeners can subscribe FREE to receive the syndicated FuseBox Radio Broadcast's weekly episodes via podcast and music streaming services like iTunes, Stitcher Radio, TuneIn Radio, AudioSear.ch, Podcast Addict & more!
DJ Fusion has opened for & been on performance lineups with diverse musical acts throughout the years such as Run The Jewels, Ludacris, Juicy J, Ghostface Killah, Raekwon, Smif N Wessun, Action Bronson, Killer Mike, Taalam Acey, Uptown XO and more!
The FuseBox Radio Broadcast family has DJ-ed at the following events, venues and locations over the years:
National Cherry Blossom Festival 2013, 2014, 2015 & 2016 (Washington, DC; Tidal Basin Welcome Area Performance Stage Performer/Stage DJ)
Marine Corps Marathon 2013, 2014, 2015 & 2016 (Washington, DC; course DJ)
North by Northeast [NXNE] 2012, 2013 & 2014 (Toronto, Canada; official showcases)
Dick's Sporting Goods Pittsburgh Marathon 2015 (Pittsburgh, PA; course DJ)
National Bike Summit & Women's Forum 2016 (Washington, DC)
D.C. State Fair (2015 & 2016)
DC International Film Festival 2013, 2014 & 2015 (Washington, DC)
Capital Trans Pride [a part of Capital Pride] 2015 (Washington, DC)
New York Super Week 2014 (NYC; official showcase)
Musikfest 2013 (Bethlehem, PA; official showcase)
DC Green Festival 2012, 2013 & 2014 (Washington Convention Center, Washington, DC)
NYC Green Festival 2013 (Jacob Javits Center; NYC)
TEDxMidAtlantic 2012 (Reception at Living Social 918 F Street; Washington, DC)
TEDxUpperEastSide 2013 (NYC)
Yonge-Dundas Square (Toronto, ON)
Penn Social (Washington, DC)
Hillyer Art Space (Washington, DC)
SOBS (NYC)
LIV Nightclub (Washington, DC)
National Black Theatre in Harlem (NYC)
Bowery Poetry Club (NYC)
Tropicalia (Washington, DC)
Nuyorican Poets Cafe (NYC)
Rutgers University (NJ)
Rock and Soul DJ Equipment and Records (NYC) and more...
DJ Fusion also engages in freelance photography and writing for various print & web music and cultural publications and has been a part of various seminars & music conferences as a knowledgeable expert panelist & speaker on the Independent Music Industry at the following events:
New York Media Festival [2016]
Mid-Atlantic Podcast Conference [2016]
DC Podfest [2015]
Made In The DMV Conference [2014]
North by Northeast Interactive (NXNEi) [2013]
TEDxOrlando [2012]
Lipstick Revolt [2013 & 2014]
Ignite DC [2011] & more
---
Check availability for DJ Fusion (FuseBox Radio Broadcast) »
---