PK3 Jazz Trio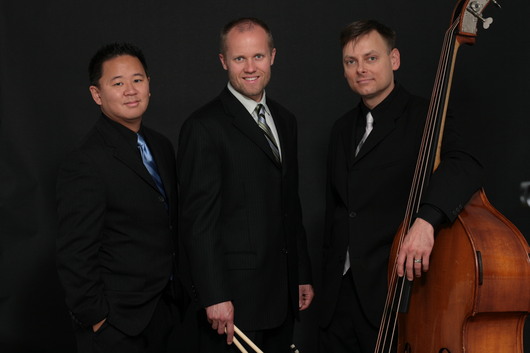 Watch PK3 Jazz Trio
This jazz trio is based around great feel and interesting arrangements. The sound of PK3 Jazz Trio is influenced by influenced by Oscar Peterson, Ahmad Jamal and Harry Connick Jr. With extensive experience performing at jazz festivals, weddings, corporate functions, hotel lounges and restaurants in the Vancouver region and abroad, the swinging sound of the PK3 Trio is a fine addition to any event.

Kristian Braathen- Kristian has worked as a professional musician for more than fifteen years. He received a Bachelor of Music Degree from the Music Faculty at Capilano College in 2004 where he studied with local jazz drummers Dave Robbins and Blaine Wikjord. During a hiatus from his studies at Capilano College, Kristian performed for several cruise line companies for two years from 1998 to 1999. As well, Kristian toured extensively in Canada and the United States with the Russell Jackson Band (former bassist with BB King) from 2000 to 2003. From 2004 to present, Kristian has also been a member of several local bands and works in many freelancing situations, including live performance and studio work. In 2005, Kristian studied with world renowned jazz drummer, Jeff Hamilton (drummer with Oscar Peterson, Diana Krall and many others.) Now focusing mainly on jazz, Kristian is an in demand drummer on the Vancouver music scene.

Jodi Proznick- In 1993, after winning the General Motors Award of Excellence as one of the top young musicians in Canada, bassist Jodi Proznick moved from her native White Rock, B.C. to Montreal, P.Q. where she obtained her Bachelor of Music from McGill University under the tutelage of Michel Donato, Eric Legace and Alec Walkington. Jodi was awarded a Performance Scholarship in 1997 as a member of the McGill Big Band I. She performed extensively in Montreal. Since moving to Vancouver in 2000, Jodi has become a top call bassist. She has played with international jazz stars such as George Coleman (Miles Davis, Herbie Hancock), David Fathead Newman (Ray Charles), Ed Thigpen (Oscar Peterson Trio, Ella Fitzgerald), Charles McPherson (Charles Mingus), Sheila Jordan, Seamus Blake, and many others. A highlight for Jodi was opening for Oscar Peterson with the Oliver Gannon Quartet at the Orpheum in the summer of 2004. Also In 2004, Jodi won the Galaxie Rising Star Award of the Vancouver International Jazz Festival with her own group, the Jodi Proznick Quartet. In 2005, Jodi had the opportunity to play a concert series with VSO concertmaster Mark Fewer and Grammy nominated classical pianist, John Novecek for CBC´s West Coast Performance. In the winter of 2007, Jodi was a featured performer with the Vancouver Symphony Orchestra.

Paul Miyai- Paul studied both jazz and classical piano at the University of Manitoba and at Capilano College in North Vancouver and has performed extensively as a soloist as well as an accompanist. During his engagements on Cruise Ships, Paul performed behind such names as Regis Philban and various entertainers who perform regularly on The Late Show with David Letterman and The Tonight Show with Jay Leno. Paul has performed at numerous jazz and classical festivals around Canada, has made several television appearances and travelled all over the world as a working musician.
---
Check availability for PK3 Jazz Trio »
---