The Eric DiVito Group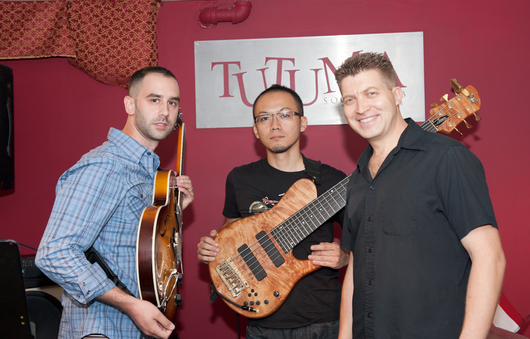 Eric DiVito is one of NYC's talented and busy guitarists. Originally from Long Island, NY, Eric began playing guitar at the age of 11 and was gigging professionally by the time he was in high school. After graduating from the Crane School of Music in 2004, Eric moved to Queens, New York to attend The Aaron Copland School of Music at Queens College; and to be closer to New York City's jazz scene. There, he began performing much more, and collaborating with some of New York's finest musicians.

Eric performs as a soloist as well as in duos, trios, quartets, and big bands at various clubs, festivals, and other venues throughout New York. In addition to performing as both a sideman and a leader, Eric is an active composer, frequently performing and recording his original music. Several of his compositions and arrangements have been commissioned for various ensembles and events and featured in independent films. In addition, Eric has performed at countless live music venues including The Iridium Jazz Club, Smalls, The 55 Bar, The Garage, Miles' Cafe, Puppets Jazz Bar, The Cutting Room, Port Jazz, Sullivan Hall, and many more.

Eric has performed numerous times at the Ithaca Guitar Festival as part of the Crane Guitar Quartet, as well as at the Crane Jazz Festival, the CUNY Jazz Festival, and the BoCoCa Arts Festival in New York City. He has also performed and shared the stage with some of NYC's greatest Jazz musicians; worked in pit bands and Jazz groups for Carnival Cruise lines, as well as on the Bateaux Dinner Cruise out of Chelsea Piers, in New York City Harbor.

In addition, Eric can often be found performing with his own groups at various venues throughout NYC which include The Eric DiVito Group, the original Jazz trio Project3Tet, as well as other ensembles. He is also the musical director, arranger and guitarist for PepperSpray, NY's premiere Red Hot Chili Peppers tribute band formed in 2006.

Eric holds a Bachelor's degree in classical guitar performance and music education from the Crane School of Music (2004) where he studied with Doug Rubio and Bret Zvacek. He also earned his Master's degree in Jazz performance from the Aaron Copland School of Music at Queens College (2006) where he studied under Paul Bollenback, Antonio Hart, and Michael Phillip Mossman.

Eric is also a busy educator, teaching guitar techniques, music theory, improvisation and ear training in his private guitar studio. He also gives master classes and clinics in various schools and institutions. In 2006, Eric was asked to start a music program at MS345 (C.A.S.T.L.E. Middle School) in the lower east side of Manhattan. There, he developed a curriculum for and currently teaches courses in instrumental band and general music.

He is also on the guitar faculty at the Great Neck Arts Center in Great Neck, Long Island and has contributed transcriptions and audio and video recording for United We Tab, an online guitar transcription website.
Eric has also been published in various guitar and music publications including RAE magazine, and Play Jazz Guitar magazine.

Eric is a Pioneer Jazz Collective (PJC) recording artist and is endorsed by Eastman Guitars and Flite Sound Innovations, Inc.
Eric resides with his wife in Bayside, Queens.
---
Check availability for The Eric DiVito Group »
---