Tempest "Little Big Band"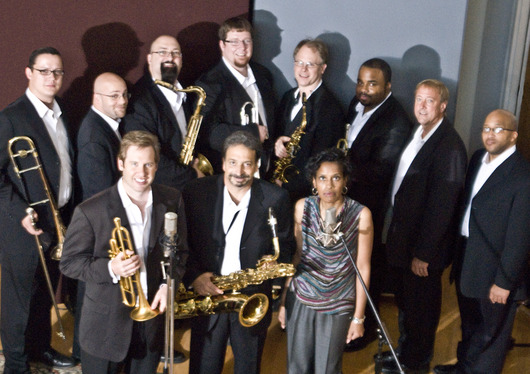 Watch Tempest "Little Big Band"

"Slamming!" -Down Beat Magazine
"The Real Thing!" -Atlanta Journal-Constitution
Featuring the finest jazz musicians in the greater Atlanta area, Tempest consistently blows up a storm!
With six horns—alto, tenor, and baritone saxophones; two trumpets; one trombone—plus piano, bass, and drums, Tempest has a powerful sound all its own. Duke Ellington, Count Basie…the big bands are well represented in Tempest's expansive repertoire.
What separates us from a typical swing band is an adherence to the fundamental heartbeat of jazz—improvisation. In addition to the sounds of the big bands, you'll find Tempest set lists dedicated to the small-group sounds of Miles Davis, Freddie Hubbard, Art Blakey…all exquisitely arranged for Tempest.
Tempest is a nine-piece (plus vocalist) Little Big Band led by saxophonist James Rozzi, who, prior to calling the band's first and only rehearsal in 1997, was known to Atlanta's jazz musicians more for the stroke of his pen than the sound of his horn. Rozzi's biweekly column, "'Round Midnight," in Creative Loafing covered the city's jazz scene for more than four years. Rozzi now freelances as a jazz journalist, primarily for Jazziz magazine.
When the musicians gathered for the first time, every chart they rehearsed was met with enthusiasm and was quickly mastered. Tempest's musicians are superb both at interpreting written manuscript and improvising. It's always a great experience to hear them blaze through a difficult, uptempo ensemble passage, then turn around and play with absolute subtlety and finesse on a slow ballad. Musically, it's always happening.
Tempest's latest, critically-acclaimed CD, "Round Midnight" (available internationally through CDbaby.com, amazon.com and itunes), is a well-balanced, ten-track trek through multiple genres. While the sound of Tempest's first CD, "Atlanta Live" (released in 2001) is based on lengthy improvisations, Tempest is also known as a band for classy, black-tie events, offering quiet dinner music, tasteful dance music, and entertaining shows.
When the situation requires a specific theme, Tempest delivers. Our library is expansive at more than 150 songs. We can play an afternoon concert of straight-ahead jazz, then turn around and play a dance or blues concert that night—without repeating songs. We can play it all, from John Coltrane to Glenn Miller to T-Bone Walker.
Tempest has also performed its share of themed concerts, including a Duke Ellington tribute, 1940s swing-era concerts, blues festivals, and a musically adroit "History of Jazz" presentation.
Tempest employs three outstanding vocalists depending upon availability. Audrey Shakir is as accomplished an improviser as any horn player. She delivers the libretto to standard tunes with individualism and honesty and is revered throughout the U.S. as one of the very best scat singers--in the vein of Ella Fitzgerald or Sarah Vaughan. Atlanta legend Joe Gransden often plays trumpet and sings with Tempest. His voice covers the gamut from Frank Sinatra and Tony Bennett to the more free-flowing style of Chet Baker. A virtuoso trumpeter and leader in his own right, Gransden is always a joy to hear.
Adding to our versatility, Tempest recently added a solid hour's-worth of blues vocals to our substantially huge repertoire. Tempest now has the ability to transform into a gutbucket blues band! Slow, fast, happy, sad, bawdy...you name the groove and we have the blues song to fit the mood. These new blues vocals supplement several sets of blues instrumentals already in the book. So yeah! Tempest is now also a blues band...and lovin' it! Book us for your Blues Festival and you won't be disappointed.
Over the years, we've garnered considerable accolades. "Round Midnight" has already charted nationally on JazzWeek--no easy feat in this day and age of en masse, self-produced jazz CDs. The band has been described in Down Beat magazine as "Slamming!" Critic Steve Dollar of The Atlanta Journal-Constitution touted the sound of Tempest thusly: "This is the real thing."
In addition to long-running gigs at Atlanta's Churchill Grounds, Café 290, and Libby's Cabaret, the band has been featured at corporate events, private concerts and parties, and the JVC and Atlanta Jazz Festivals—all to rave reviews.
Praise for "Round Midnight" from Jazz Radio:
"Off the chain!" H Johnson, WABE Atlanta
"Nice, clean, swinging tunes..." -Claudia Russell, KSDS San Diego
"Great disc with plenty to choose from." -Mike Jacobs, KIOS Omaha
"This 'Little Big Band' certainly delivers!" -Peter Kuller, 101.5 FM Adelaide, Australia
---
Check availability for Tempest "Little Big Band" »
---