The Nick La Riviere Septet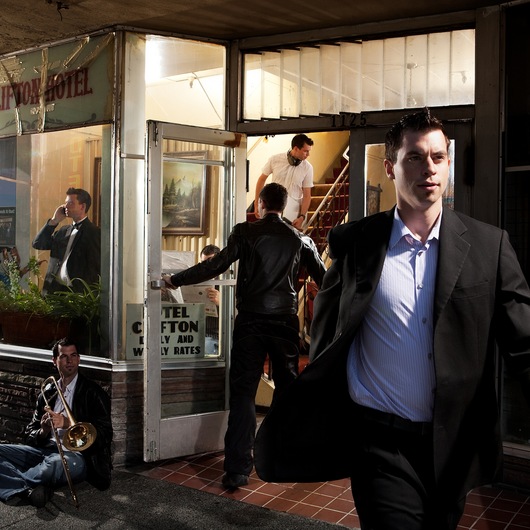 The Nick La Riviere Septet features both unique music and instrumentation. The band includes trombone/conch shells/vocals, two violins, cello, piano, bass, and drums. The music is a mixture of originals as well as jazz standards that have been specifically arranged for this group, each with a new twist. The music is never predictable and always exciting. The string players are no slouches either. The music is arranged to give them something interesting to play, not just long notes or 'pads' as we often think of with most string sections involved in anything pop music related. The mix of music performed goes through various genres – not just the old standards, but also funk, new twists on Latin feels by Jobim and Chick Corea, and even a bit of humour.
Nick La Riviere, the leader of the group, is without a doubt Victoria's busiest freelance trombonist. He plays frequently with the international touring band, The Paperboys, as well as a new latin offshoot of The Paperboys called Locarno. Nick also plays with many other bands including Michael Kaeshammer, Pretzel Logic, The Yiddish Columbia State Orchestra, The Timebenders, The Honeycrooners, The Hollywoods, Dinah D's Swingclub, 'Round Midnight, The Southern Urge and more. Nick performs somewhere almost every day, and frequently tours across Canada, the USA, and Europe.
---
Check availability for The Nick La Riviere Septet »
---