Edgar Gabriel's StringFusion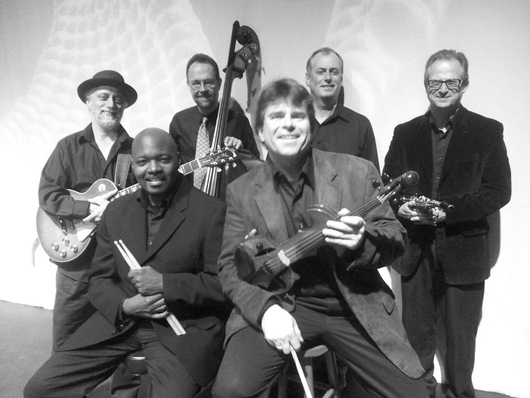 StringFusion led by former Cirque du Soleil violinist Edgar Gabriel, is a band of highly skilled and talented professionals that play a wide variety of music, from jazz to rock, funk and classical music with a beat. Their Cd of all original music "Not Radio Material" is currently heard worldwide on 6 continents. StringFusion is especially adept at "Hot Club" Swing Jazz and AOR (Album Oriented Rock) classic rock and fusion from the 1970's performing such bands as: The Allman Brothers, Frank Zappa, Santana, Yes, Led Zepplin, Jean-Luc Ponty and much more.
StringFusion performs publicly in concert halls, festivals, jazz, rock clubs and many other venues where live music is heard. They are available for private parties, weddings, corporate functions and special events. StringFusion has an educational show and regularly performs in public and private schools.
Edgar and his musicians are extremely versatile and the perfect band for many functions such as weddings, corporate events, concerts, and festivals StringFusion can perform classical music for a ceremony, jazz for cocktails and dinner and then turn into one of the hottest small dance bands in Chicago.
StringFusion can fit most any event and budget, they perform with as few as 3 musicians: electric violin/vocal, bass (or drums) keyboard (or guitar). Add guitar (or keyboard), drums (or bass), sax/flute/clarinet, cello, female vocals and additional male vocals for up to a 8-piece band.
StringFusion® is a Registered service mark of Edgar Gabriel Inc.
---
Check availability for Edgar Gabriel's StringFusion »
---