Live Music for Silent Movies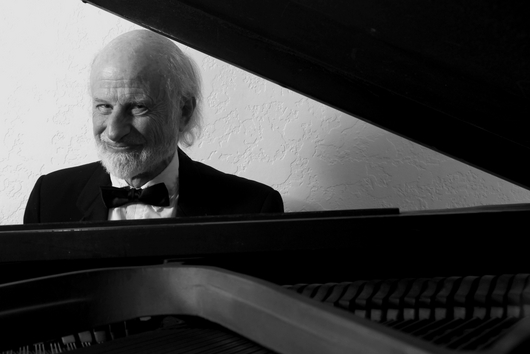 Watch Live Music for Silent Movies
RICK FRIEND — Pianist and Composer for Silent Film
A native of Clifton, New Jersey, Rick Friend studied piano and composition at the Oberlin College Conservatory of Music.
An avid movie buff since childhood, Rick became interested in silent movies in his high school days, when, just for fun, he and his friends rented from the library a 20 minute version of Buster Keaton's The General.
Watching it in silence for a few minutes irked his curiosity to go over to the piano and start improvising for the film as it played. From then on, he was hooked on silent movie improv music. Serious improvisations began 20 years later at the Loyola Movie Palace in Los Angeles, California, where he accompanied international silent movies such as Faust, and Madame Dubarry. Rick played for 4 seasons of the Toronto International Film Festival's Open Vault Series, and in 1987 began playing for the Toronto Film Society. He became involved in Cinemateque Ontario, accompanying their showings of Fritz Lang's Metropolis, and Carl Dreyer's The Passion of Joan of Arc. Later, he mounted his own showing of The Passion of Joan of Arc with his own score for 9 musicians, at The Music Gallery in Toronto. Also, he has appeared as soloist with various orchestras, performing his arrangements for The Mark of Zorro, The General, The Phantom of the Opera, Nosferatu, and The Thief of Bagdad.
He has appeared with The Atlanta Symphony, The Fort Worth Symphony, the Orchestre Symphonique de Quebec, Elgin Symphony, IL, the Ocean City Pops in New Jersey, and numerous times with the symphony orchestras of Springfield, MA, Regina, SK, Traverse City, MI, and Saskatoon, SK.
Rick joined the Savannah Music Festival 3 times, performing his piano scores for F.W. Murnau's Sunrise, Alfred Hitchcock's Blackmail, and Charlie Chaplin's The Kid.
Rick has developed a never ending passion for live music for silent movies. His favorite venue is the symphony orchestra, which, with it's infinite variety of colours, serves well the values, moods, and feelings in these works of art from the Golden Age of silent movies.
In 1997, Rick helped Toronto honor their own Mary Pickford (1891 — 1979) in a TV biography special, "The Life and Times of Mary Pickford" which airs periodically on CBC. In the same year, he finished scoring a dramatic short film, The Red Window. His piece Wilcox Street for brass quintet was performed in Los Angeles.
He has appeared at the Silent Movie Theater in Hollywood, California, where he studies film composing, while teaching piano and occasionally mounting his own production of silent movie concerts.
His mission is to bring back the art-form of live music with silent movies.
---
Check availability for Live Music for Silent Movies »
---