Porchdogs Cajun & Zydeco Band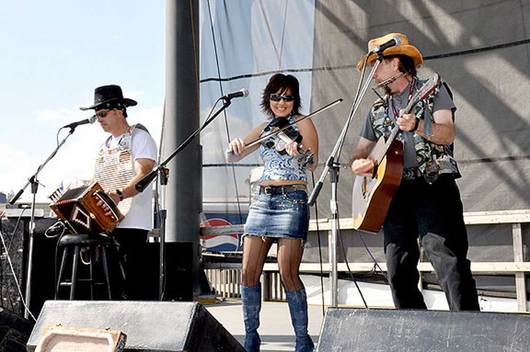 In 1992, Orlando residents Andy Burr (guitar, harmonica, vocals) and Greg Taillon (Cajun squeezebox, fiddle, vocals) formed The Porchdogs in order to perform the kind of music they loved but rarely heard in Central Florida--the rootsy good-time sound of Louisiana Cajun and Zydeco.

Joining Andy and Greg is one of several talented fiddlers: usually Renee Riddle, Ash Reeder or John Henry Gates. As a trio, the group plays acoustically (strolling or stationary) or amplified (with pre-recorded bass and drums for backup). As a full band, Porchdogs add any of several fine bassists and drummers we normally use.

The Porchdogs band is well-known throughout Florida, regularly performing at Orlando's theme parks, at festivals and fairs, at nightclubs, and at numerous corporate and private events. The Porchdogs is the only group (national, Louisiana, or Florida) to have performed every year (all 15) of the Ft. Lauderdale Cajun Zydeco Crawfish Festival--now defunct, but at the time the largest event of its type in the country. The band has also been a featured act daily for over 12 years at the World Famous Iron Horse Saloon during Bike Week and Biketoberfest.

The group is ideal for theme parties, especially Swamp, Gator, Mardi Gras, New Orleans, 'Fish Camp,' Fais do-do, Rural, and Cajun Christmas; great for family reunions, house parties, wedding receptions, barbecues, picnics and casual get-togethers.

The Porchdogs are available to play your party or event!
Squeezebox, fiddle, guitar/harmonica, bass, rubboard, and drums.
---
Check availability for Porchdogs Cajun & Zydeco Band »
---