Pegasus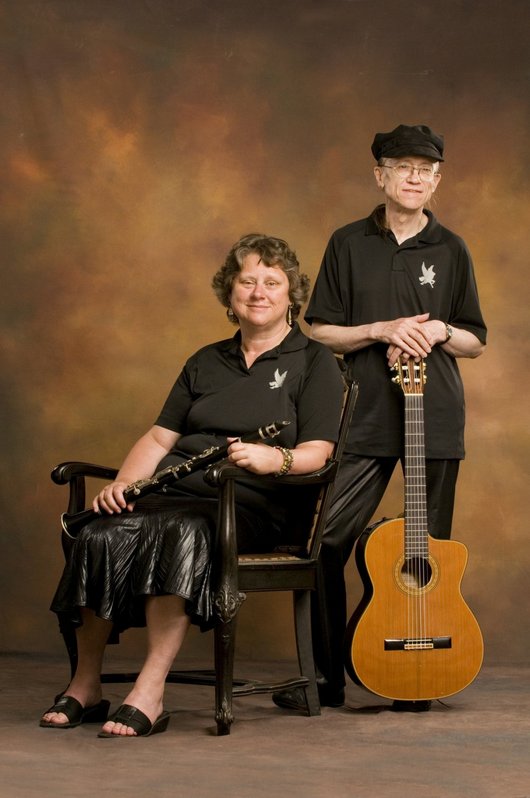 A fluent band that plays pop, folk, medieval, jazz, 40s, latin, flamenco, South American, mainstream, Irish and Scottish Celtic, as well as esoteric music!
Versatility and variety, Pegasus plays original, arranged and blended music. Recorders, pan pipe and clarinet by Alison Cran; acoustic guitar, cuatro and mandolin by Adrian Thornton.
Note: Pegasus is strictly instrumental.
ABOUT ADRIAN THORNTON
Born near London, England, Adrian played violin as a child. His family moved to Montreal when Adrian was 10, and then to Saint John where he took classical violin lessons for many years.
When the Beatles broke out, Adrian did too – he got his first guitar and then discovered flamenco and something clicked. He loves the freedom of flamenco and his music is also influenced by bossa nova!
He can play mandolin, violin and took guitar lessons in Montreal again after he left home.
Adrian plays acoustic and cuatro guitar, and he's a versatile songwriter and arranger.
ABOUT ALISON CRAN
In Montreal, where she was born, Alison remembers watching the Black Watch Regiment Band at the age of 3 and thinking she would do that too!
In Grade One when they told her at school she couldn't play a soprano recorder because her hands were too small, Alison took the recorder and music book home and taught herself to play.
Without lessons or special encouragement, she played recorder and ever since then she has supported her music as a virtuoso worker in many different jobs.
After learning every kind of recorder there is, Alison took up the pan pipe, which led her to South American music. She played in the Third Field Artillery Regiment Band where she also learned clarinet.
---
Check availability for Pegasus »
---