John Ehlis Ensemble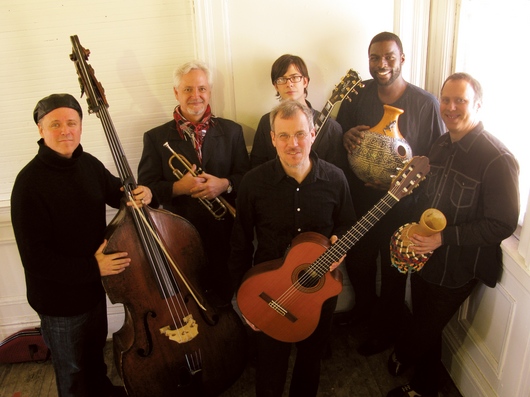 The John Ehlis Ensemble is a group of talented and expressive musicians who weave a remarkable musical journey.
Originally formed in San Francisco in 1995, this collaboration of musicians utilizes a wide dynamic range and a flexible palette of tone colors to create a distinctive ensemble sound mixing jazz traditions and world cultures.
Collectively this ensemble does more than tap into the past, each musician stretches beyond what they already know. Each performance is a unique event charged with imagination. And this is a group of musicians who really listen to one another.
Featured guest artists with the group have included saxophonists John Tchicai, Oliver Lake, Joseph Jarman, Mikko Innanen and Vinny Golia.
Other featured guests have included: Mazz Swift (violin), Amalia Lopez Chueca (cello), Jessica Owen (vocals), Jon Luks (tap dancer) and John Smart (piano).
"Owing as much to various world music traditions as to jazz, Ehlis's typically ruminating and occasionally explosive music is an original global fusion, steeped in the multikulti aesthetic of late trumpeter Don Cherry." Derk Richardson - San Francisco Bay Guardian
"The John Ehlis Ensemble is an atypical set of musicians who have embraced at least three different jazz motifs without conflicting the results." Jeff Melton - Expose
"...(Ehlis) is superbly supported by fellow axman Lofton and the underrated Tchicai, all of whom together form an odd ensemble very reminiscent of Henry Threadgill's." Dave McElfresh - Jazz Now
Recordings:
John Ehlis Ensemble
John Ehlis Ensemble "San Carlos"
John Ehlis Ensemble "Along the Way"
---
Check availability for John Ehlis Ensemble »
---