Blues Edition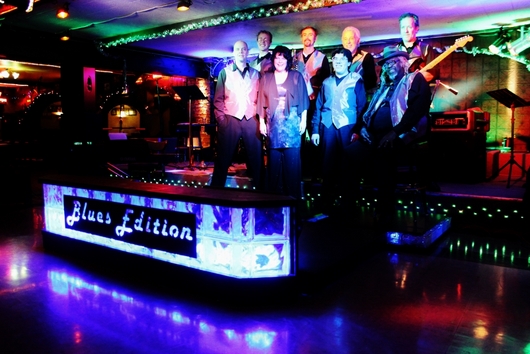 Watch Blues Edition

Exciting, energetic dance music! Playing a great mix of blues, classic R & B, and swing, performed by headlining musicians, some of which played with the original artists! With powerful lead vocals, vocal harmonies, and seasoned musicians, this band is always a class act, in performance and appearance. With great gear in tow, including a PA which serves sound to crowds up to 1,000, and custom stage props & lighting; Blues Edition has more to offer the audience in music & visual ambiance.
DEWEY DOROUGH played sax and harmonica with The Charlie Daniels Band for 3 years, and The Oak Ridge Boys for 16 years. During that time received 3 gold records and 1 platinum record. He also received a CMA Award in 1984. He had the honor to have played for 6 presidents. Played with several bands in the Las Vegas area, and presently adding his beautiful stylings to Blues Edition, including sax, harmonica, and percussions.
ANTHONY HOLMES In 7th grade in Florida Anthony started his music education on the flute and saxaphone, then his next band director, jazz great Cannonball Adderly, switched him to acoustic upright bass. He later took up electric bass and formed his own band. He has toured all over the world and played with Jimmie Reed, Jackie Wilson, Etta James, Big Maybel, Sam & Dave, Jesse Ferguson, Earl Gaines, Margie Hendrix, Shirelles, Freddie Empire. In Atlanta he played with many bands including the Paul Mitchell Trio in Bert Reynolds film "Sharkeys Machine" and blues singer Synethia included on her latest cd, the song "I Don't Have To Run Away" written by Anthony and his wife. In 2005 they moved to Spokane where he has played with many of the local bands in most genres. He has composed all types of music from a young age and is particularly adept at using and teaching use of recording/producing/composing with computer music software. Although he has had many basses, his current Conklin electric Bill Dickens 7 string and Palantino Upright are his favorites. In addition to playing bass, Anthony sings lead vocals & harmony for Blues Edition.
MISSY CALIFANO As a multi-instrumental musician, Missy has played many roles in bands over the years, in several genres of music. Her primary instrument is powerful lead vocals, but also plays electric/acoustic rhythm guitar, dobro slide, keys, bass, mandolin, violin, harmonica, and percussion instruments. Missy has sung blues, R&B, alternative rock, classic rock, & jazz, in groups, large & small, throughout the Northwest. Together with her husband & business partner, Joseph, they have recorded & released, original cd's & singles, via their label, Olive Tree Record Company, along with musical entertainment endeavors through Olive Tree Enterprises. She is the co- lead vocalist for The Blues Edition.
---
Check availability for Blues Edition »
---