Jennifer Wharton's Bonegasm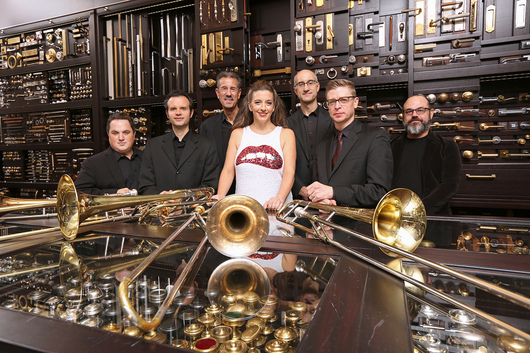 "TROMBONE ECSTASY" Downbeat Magazine
"Wharton's effervescent album captivates as it ranges between the intimate and the orchestral with plenty of whimsy." Hrayr Attarian
"Her gorgeous turns as a low-frequency melodist…are breathtaking, and her pitch-perfect pedal blasts anchor exciting ensemble work throughout the album." Alex W. Rodriguez
"in the same way that sunlight can express a heady presence, all that lightness to the trombonist's debut possesses a certain gravity, like a serious expression of idle fun." Bird Is The Worm
Jennifer Wharton might be considered by many as a unicorn in the world of music. In decades from the not-too-distant past, it was a rarity to even have a woman in prominent jazz bands and orchestras, but to have a bass trombone-slinging woman as leader was thought extraordinary.
Wharton took it upon herself to not only raise the profile of women instrumentalists but also that of her chosen horn (and its smaller cousins) through her trombone-powered ensemble, BONEGASM, via its self-titled debut album. Wharton enlisted fellow trombonists John Fedchock, Nate Mayland and Alan Ferber, along with the rhythm section of pianist Michael Eckroth, bassist EvanGregor and drummer Don Peretz.
The music performed includes originals and arrangements the leader commissioned from prominent composers she knew as well as members of the ensemble.
The overwhelming response to Bonegasm's music was astounding, cementing Wharton's assertion that this assemblage was no flash in the pan but an important exponent of shaping the trombone's primacy in jazz music.
It's String of Pearls meets Pearl Jam. It's All About That Bass meets Basie. It's a big band without the baggage.
---
Check availability for Jennifer Wharton's Bonegasm »
---