Boston Music
---
Performing on Cape Cod and beyond for over thirty five years. Playing the…

For the past 20 years, the Blake Newman Group has been performing…

A professional musician and AFM member since 1968, Bob Cameron has been providing bagiping…

Bonnie L. Cochran is a Boston area flutist, composer and teacher. As a flutist…

Performing in hospitals, nursing homes and prisons every month in addition to concerts worldwide…

Music is not only Dejehan Hamilton's passion; it is his life. At the age…

Brian Calhoon combines his experience…

Paul Speidel has been a recognized name in the Boston music scene…

Celtic fingerstyle guitar at its best!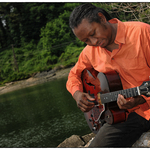 Ron Jackson is a New York jazz 6 and 7 string guitarist, composer, arranger…
---