Paul Speidel Band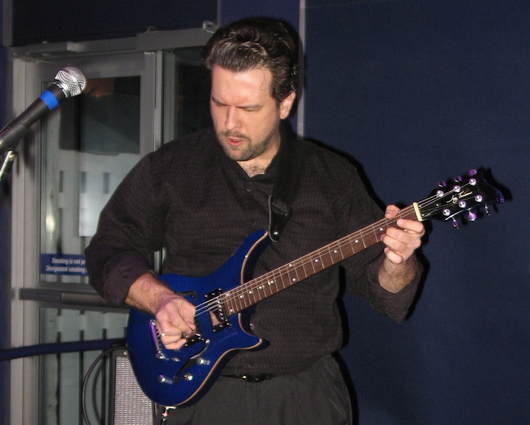 Watch Paul Speidel Band

Paul Speidel has been a recognized name in the Boston music scene for over twenty years. He performs most often fronting his own group, the Paul Speidel Band, mixing a variety of styles from blues and rock to funk and jazz. Paul also appears frequently as a solo jazz guitarist, in addition to working in duo, trio and quartet settings. Paul has been playing guitar twenty-six years and has also performed professionally on bass, piano and as a vocalist. His award-winning compositions have been used in soundtracks for industry and training videos. An accomplished educator, Paul has been teaching all facets of guitar privately since 1983, and currently instructs between 40 and 45 guitar and bass students a week.
Though Paul cut his teeth on the blues in his hometown of Chicago, he had already gained experience in a variety of styles ranging from rock and punk to blues and jazz by the time he graduated high school. He began his formal training in jazz and classical music at Augustana College in Illinois, where he got his bachelor's degree in music. He went on to earn a Master of Music degree in Theory and Composition at the University of Northern Colorado, where he was a Teaching Assistant in the award-winning Jazz Studies Department. During this time, Paul continued to freelance in jazz and commercial music, including a three-year stint playing tenor banjo!
Paul moved to the Boston area in 1990, and within a year, began teaching blues and jazz in the Newton Public School system. While continuing to teach, Paul worked briefly as a studio producer and live sound engineer for local singer-songwriters, including Dar Williams and Jim Infantino (Jim's Big Ego). In 1993, Paul decided to resume his performing career, and began appearing in the Boston area as a sideman and under his own name.
In November of 1994, Paul founded and hosted the Sunday Night Blues Jam Sessions at Yerardi's in Newton, attracting top amateurs and professionals to the informal setting. After three successful years, the event evolved into the Blues Showcase Series, which ran through the 1999 season, bringing in major local and national talent such as Jay Geils (J. Geils Band), Duke Robillard (Roomful of Blues, Fabulous Thunderbirds), James Montgomery, Shirley Lewis and many others. Since then, Paul has been performing in area clubs with his own group, The Paul Speidel Band, and as a sideman with various working bands in New England.
Performers Paul has appeared with include Patti Page, Toni Lynn Washington, Jay Geils, Duke Robillard, James Montgomery, Michelle Willson, Shirley Lewis, Taylor Made, Chris "Stovall" Brown, "Sax" Gordon Beadle, Howard Alden, Bruce Gertz, Gerry Beaudoin, John Lockwood, and many others. Paul has performed under his own name and as a sideman at many well-known area venues such as Johnny D's, Harper's Ferry, the Tam O'Shanter, Plough and Stars, Karma Club, the Willow Jazz Club, the Kirkland Cafe, Sticky Mike's, the Midway Cafe, the 1359 Jazz Club, the Attic and many other clubs, coffeehouses and concerts in the New England, Denver and Chicago areas. Most recently, they opened the Blues-n-Brews Festival for headliner John Lee Hooker, Jr.
"Paul played great!"
-Duke Robillard
"It was a lot of fun to play with these guys. They really know how to play the right grooves and how to play the blues. It's always fun to play with great players who know what it takes to put on a great show."
-James Montgomery
"It's always a rockin' good time when the Paul Speidel Band plays the Watch City Brewery!"
-Jocelyn Hughes (Owner, Watch City Brewery)
---
Check availability for Paul Speidel Band »
---