Peter Janson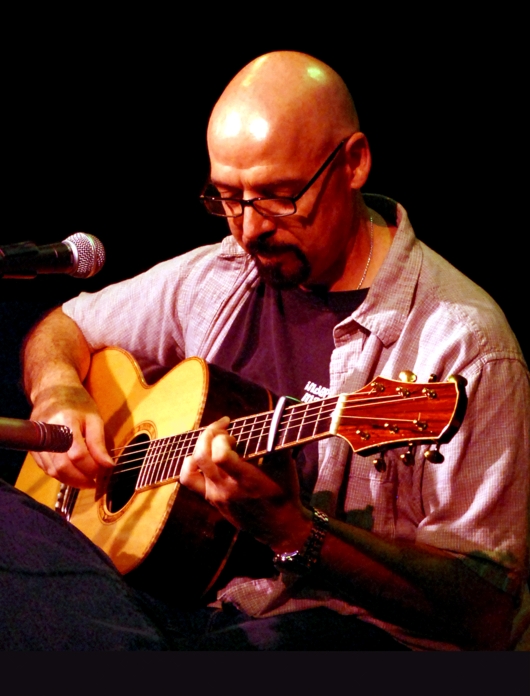 Watch Peter Janson
Celtic fingerstyle guitar at its best!
Peter Janson was born in Cambridge Massachusetts, USA. He began playing guitar at age 7 and started composing as a young teen. His early influences were eclectic - Django Reinhardt, Andres' Segovia, Chet Atkins, Les Paul, Joe Pass, Freddy King, Steve Reich, Arvo Part, Doc Watson, Brian Eno – and remain so to this day. While attending the New England Conservatory of Music he was interested in early music for stringed instruments, jazz, Indian classical, and contemporary classical composition. He gained experience composing for and performing in a variety of ensembles in a myriad of styles while attaining his Master of Guitar Performance degree and this is when his passion for folk, world, and traditional music, especially Celtic, was formed. Since that time his performances have mostly been as a soloist playing fingerstyle guitar.
Peter won an NAR Lifestyle Music Award for Best Contemporary Instrumental Album for his Beautiful Day CD, and Album of the Year and Best Instrumental Album Acoustic awards for his co-writing and performing on Jamie Bonk's My World CD. He's had the privilege of performing with a variety of acoustic artists including "American Guitar Masters" tours with Larry Pattis, "Artistry of the Guitar" tours with Ken Bonfield and Steve Davison, "String Songs" concerts with luminaries Tim Farrell and Michael Manring, "Friends" concerts with Steve Hunt, Henrik Bridger and Bertram Lehmann, and has shared stages with Ed Gerhard, Alex DeGrassi, Dakota Dave Hull, Chris Proctor, singer-songwriters Brooks Williams, Shane Jackman, Greg Greenway, and Tim Harrison, Ugandan artist Kinobe and Celtic artists Aine Minogue, Aoife Clancy, Robbie O'Connell, and others.
Currently a faculty member of the Performing Arts Department at the University of Massachusetts Boston, Peter has been hailed as "the perfect combination of instrumentalist and composer, entertainer and educator" (WUMB Music Festival). He has composed and recorded music on 14 national and international CDs including six CDs under his name, music for video games, and his music has been featured on a variety of regional documentaries. He has written an article for Acoustic Guitar Magazine titled "Teaching at a University."
AWARDS
* NAR Lifestyle Music Award winner for Best Contemporary Instrumental Album 2006, BEAUTIFUL DAY
* NAR Lifestyle Music Award nominee for Best Instrumental Album - Acoustic 2006, BEAUTIFUL DAY
* NAR Reviewer Pick Award winner for Best CD of 2006, BEAUTIFUL DAY
* NAR Lifestyle Music Award winner for Album of the Year 2004, JAMIE BONK - MY WORLD
* NAR Lifestyle Music Award winner for Best Instrumental Album - Acoustic 2004, JAMIE BONK - MY WORLD
* KTEP-FM (El Paso TX) Top 20 of the Year 2004, FIRELIGHT MOONLIGHT
* KTEP-FM (El Paso TX) Essential Audiosyncracy Collection Award winner 2003, SOMETIMES FROM HERE
* NAV Music Award finalist for Best New Age Album 2002, SOMETIMES FROM HERE
* KTEP-FM (El Paso TX) Top 20 of the Year 2001, SOMETIMES FROM HERE
* KSRC-FM (Tulsa OK) Top 20 of the Year 2001, SOMETIMES FROM HERE
* NAV Music Award nominee for Best Acoustic Instrumental Album 2000, ACROSS THE BRIDGE
* KGOU-FM (Norman OK) Best of 2000 Award winner, ACROSS THE BRIDGE
---
Check availability for Peter Janson »
---